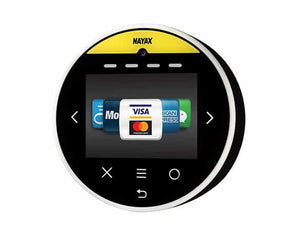 All cycleWASH machines can be upgraded to Cashless Payment with Touch Display for Self Use. 
CycleWASH offers payment with NFC (Apple Pay, Google Pay), credit card or via the App Monyx (payment via PayPal and SMS).
Compatible with all our products - Pro, Go & mini series.
The amount per Wash is programmable though cloud service.
A contract for monthly fees of 20 € and 4% of sales per transaction will be billed to the customer.

We recommend the cycleWASH machine to supervised by an operator to avoid vandalism or theft.
Please find more information on our website: https://cyclewash.de/en
* Delivery date will be confirmed in the Sales Order. Typically delivered within 8 weeks after payment.
Our offer is based on our General Terms and Conditions (GTC), which you can view on our website https://cyclewash.de/en/ts-cs
* The delivery date is confirmed in the sales order. Normally, delivery takes place within 4 weeks of receipt of payment.